Parts Catalogues
Stay up-to-date with the latest Cat Parts
Fill in the form to download the FOUR latest Caterpillar Parts Catalogues.
Catalogue Contents Include:
Warranty Information
Parts Numbers
Use Descriptions
Feature Lists
Sizing
Pictures
Repair Information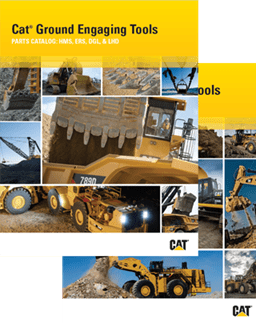 Cat® Ground Engaging Tools: Parts Catalogue: HMS, ERS, DGL & LHD - 2021
A complete parts reference guide for G.E.T. to ensure you order the correct tips, gauges, shrouds and adapters.
Cat® Ground Engaging Tools: Construction Parts Catalogue - 2021
A complete parts reference guide for G.E.T. related to wheel loaders, hydraulic excavators, dozers, motor graders and wheel tractor scrapers.
One Safe Source - 2019-2020 (latest version)
The One Safe Source catalogue is a reference of the most highly used, most consumable Cat® parts available. It offers a quick reference and one-stop shopping for parts needed to service and maintain a broad range of systems and machines.
Dealer Service Tools - 2019-2020 (latest version)
The Dealer Service Tool Catalogue offers Cat dealers and customers a wide selection of general-purpose tools, shop equipment, and specialty tools to make tooling your site easier.
Parts.Cat.Com
Parts.Cat.Com (PCC) is accessible anytime, anywhere, from any device. At your fingertips, you have access to over 1.4 million Cat parts. Buying parts for your equipment has never been faster or easier.
About WesTrac Cat
As one of the largest authorised Caterpillar dealers in the world, WesTrac provides customers with a wide array of machinery and construction equipment as well as a comprehensive whole-of-life management solution designed to make owning and operating equipment as easy, profitable and safe as possible – from selection and finance through to maintenance and resale.