Cat® Advansys™ G.E.T. Tips & Adapters
Faster. Easier. Safer.
NEXT GEN HAMMERLESS Get FOR MAXIMUM PRODUCTIVITY
Optimise the performance of your Cat 988-994 Wheel Loader or Cat 349-390 Hydraulic Excavator with Cat Advansys GET. The newest and most robust Cat GET system delivers the highest productivity and quickest removal and installation times.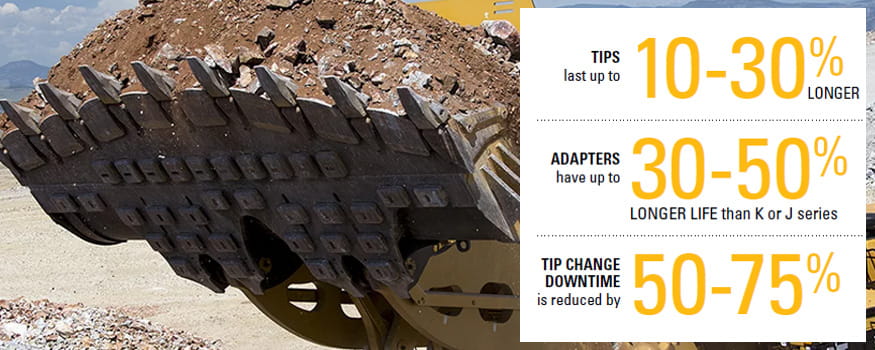 Cat Advansys™ Tip System Benefits
Improved Productivity: Exclusive tip and adapter features result in the highest productivity Cat® system
Enhanced Reliability: Strongest, most robust adapters Caterpillar has ever produced
Hammerless Installation: Quickest hammerless tip removal and installation with a 3/4 inch retainer lock that requires no special tools
Simplify Installation: Integrated retention components mean no more searching for pins or retainers
Simplify Retrofitting: Easy upgrading because Advansys adapters drop into the same space as K series
Simplify Ordering: One part number to order when changing a set of tips
Cat Advansys™ Tip System Reliability
Stronger adapter noses are designed with up to a 50% stress reduction
Improved adapter nose geometry reduces sliding wear on adapter nose surfaces extending the life of the adapter
Improved tip shapes shadow the adapter straps and welds for longer adapter life
Top covers available for double strap adapters and full adapter covers available for high abrasion flush mount adapters
Cat Advansys™ Tip Installation & Removal
Half turn of retention locks and unlocks the CapSure retention
Only a 1/2" or 3/4" breaker bar is required to change the tips
Retention components come installed in tips

Choose the right Cat Advansys™ Tip for your application
Exclusive performance features include tapered tip sides that offer less drag and higher productivity. New and optimised tip shapes put wear material where you need it most.